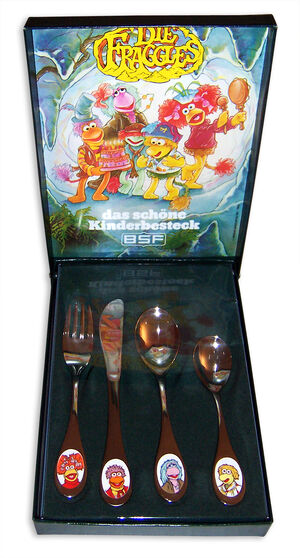 West-German company BSF made a set of Die Fraggles silverware in 1984 as part of their series "Das schöne Kinderbesteck" ("The nice children's silverware"). The set was a tie-in with the German Fraggle Rock co-production Die Fraggles.
The pieces feature illustrated head shots of four of the five main Fraggles: Red on the fork, Gobo on the knife, Mokey on the tablespoon, and Wembley on the teaspoon. The set comes in a sturdy, dark green box with a hinged lid, which features an illustration of the five main Fraggles (including Boober) on the inside. The Die Fraggles logo is featured both on the outside and on the inside. The silverware is bedded on a green-flocked base, and protected from dust with clear plastic cover.
Ad blocker interference detected!
Wikia is a free-to-use site that makes money from advertising. We have a modified experience for viewers using ad blockers

Wikia is not accessible if you've made further modifications. Remove the custom ad blocker rule(s) and the page will load as expected.