Ad blocker interference detected!
Wikia is a free-to-use site that makes money from advertising. We have a modified experience for viewers using ad blockers

Wikia is not accessible if you've made further modifications. Remove the custom ad blocker rule(s) and the page will load as expected.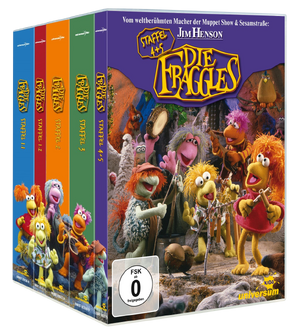 Home video releases of Die Fraggles, the German co-production of Fraggle Rock.
The Region 2 DVD releases of the first half of the first season contain the full German episodes, as well as the original North American-produced episodes with optional German subtitles. The subsequent season releases contain only the German episodes.
The combined release of the last two seasons was cut short, in that not all Fraggle Rock episodes exist for Die Fraggles. Yet, these episodes have not been released in their original English version in German-speaking countries either. For the eleven episodes that don't exist in the German co-production, see this list.
DVD Releases

Cover
Release date
Content



ufa kids (junior)
with episode numbers,
ages 4 and up





ufa kids (junior)
without episode numbers, with yellow sticker,
ages 4 and up





universum film (universum kids)
without episode numbers, with yellow sticker,
ages 0 and up





universum film (universum kids)
December 10, 2010 release,
unified to go with the
subsequent season releases

July 21, 2008
(The same box-set
has been released
four times with
slightly varying covers)

SEASON 1.1
Three-disc release of the first twelve episodes. Included are the American-English and German versions of each episode (with differing video and audio):



Disc One

Folge 1: Der Anfang (mislabeled "Anfänge")
Episode 101: Beginnings

Folge 2: Wembley und die Gorgs
Episode 102: Wembley and the Gorgs

Folge 3: Red liegt auf dem Trockenen
Episode 103: Let the Water Run

Folge 4: Geh nie ohne Hut
Episode 104: You Can't Do That Without a Hat


Disc Two

Folge 5: Die 30 Minuten Arbeitswoche
Episode 105: The Thirty-Minute Work Week

Folge 6: Die Predigten des Johannes
Episode 106: The Preachification of Convincing John

Folge 7: Wenn ich Du wär
Episode 107: I Want to Be You

Folge 8: Der Tunnel des Schreckens
Episode 108: The Terrible Tunnel


Disc Three

Folge 9: Der verlorene Schatz der Fraggles
Episode 109: The Lost Treasure of the Fraggles

Folge 10: Macht nichts, Gobo
Episode 110: Don't Cry Over Spilt Milk

Folge 11: Onkel Matt, wo bist Du?
Episode 111: Catch the Tail by the Tiger

Folge 12: Der Finger des Lichts
Episode 112: The Finger of Light


Each disc further features animated menus, as well as trailers for other (non-Muppet) classic children's shows on DVD.



Notes:


All but the last episode on disc three contain the original ending credits as they first aired on TV, complete with ZDF/ORF/SRG co-production credits. For the last episode on this set, and for all subsequent season releases, a still screen is shown instead.
Unlike the English language episodes contained on this release, the German episodes do not cut to the "Jim Henson Television" screen, nor are they followed by the "HIT!" screen.
Episode 1 displays the episode title directly after the opening credits, while episodes 2 to 9 omit on-screen episode titles entirely, as did the original broadcast of the show.
Starting with episode 10, and for all subsequent releases, German episode titles are displayed within the opening credits.




universum film (universum kids)
2010 design,
unified to go with the
subsequent season releases







Unreleased NEW KSM box set
originally planned for
an April 9, 2009 release

December 10, 2010

SEASON 1.2
Two-disc release. Unlike the release of the first twelve episodes, this release contains only the German episodes:



Disc One
Folge 13: Wembley, wir lieben Dich
Folge 14: Die Herausforderung
Folge 15: Was schert's mich
Folge 16: Fang den Mond
Folge 17: Eingeschlossen
Folge 18: Fahrende Musikanten

Disc Two
Folge 19: Die große Radieschen-Hungersnot
Folge 20: Der Gartenplan
Folge 21: Gobos Entdeckung
Folge 22: Mokey's Begräbnis
Folge 23: Das Ungeheuer von Blaufels
Folge 24: Eine neue Müllhalde ist in der Stadt

Each disc further features animated menus; the second disc features trailers for other (non-Muppet) classic children's shows on DVD.




universum film (universum kids)
2010 design

December 10, 2010

SEASON 2
Three-disc release. Unlike the release of the first twelve episodes, this release contains only the German episodes:



Disc One
Folge 25: Wembley's Ei
Folge 26: Boober-Felsen
Folge 27: Die Müllhalde lebt hier nicht
Folge 28: Rotes Seeungeheuer
Folge 29: Onkel Matt kommt nach Hause
Folge 30: Boobers Traum
Folge 31: Mokey und die Minnessänger
Folge 32: Arbeit und Spiel

Disc Two
Folge 33: Sir Hubris und die Gorgs
Folge 34: Ein Freund in der Not
Folge 35: Der Zauberer der Fraggles
Folge 36: Der Doozer-Wettkampf
Folge 37: Reds Club
Folge 38: Das Geheimnis des großen John
Folge 39: Komm ins Teppichland
Folge 40: Junior verkauft die Farm

Disc Three
Folge 41: Feindliche Fraggles
Folge 42: Das Ende aller Musik
Folge 43: Schluss mit der Suppe
Folge 44: Jedem seine eigene Höhle
Folge 45: Wembley und das große Rennen
Folge 46: Ein Doozer ist wie seine Arbeit
Folge 47: Boobers ruhiger Tag
Folge 48: Die Zehenkitzler kommen

Each disc further features animated menus; the third disc features trailers for other (non-Muppet) classic children's shows on DVD.




universum film (universum kids)
2010 design

December 10, 2010

SEASON 3
Three-disc release. Unlike the release of the first twelve episodes, this release contains only the German episodes:



Disc One
Folge 49: Die Glocken von Fraggle-Rock
Folge 50: Der unsichtbare Dieb
Folge 51: Boober und der Glob
Folge 52: Die Trauben der Großzügigkeit
Folge 53: Decke aus Schnee bringt Weh
Folge 54: Kiesel-Pocken-Blues
(mislabeled "Kiesel-Pockel-Blues")
Folge 55: Der Müll ist mein Heim
Folge 56: Glaub es oder nicht

Disc Two
Folge 57: Wembley und der böse Dschinn
Folge 58: Der Geheimbund der Poobahs
Folge 59: Der Bollerwagen, die Bürde und das Prachtbukett
Folge 60: Gobos Schule für Forscher
Folge 61: Verrückt vor Angst
Folge 62: Große Radieschen-Schau
Folge 63: Wanderlust

Disc Three
Folge 64: Der Kampf mit dem Loch im Dach
Folge 65: Spielen, bis es weh tut
Folge 66: Starr vor Langeweile
Folge 67: Höhle der verlorenen Träume
Folge 68: Die schrecklich schrumpfende Mokey
Folge 69: Eine dunkle stürmische Nacht
Folge 70: Der große Gungo

Each disc further features animated menus; the third disc features trailers for other (non-Muppet) classic children's shows on DVD.



Notes:


Starting with this release, and for all subsequent releases, the logo at the beginning of the closing is now golden yellow. The credits are still blue, but capitalized.




universum film (universum kids)
2010 design

December 10, 2010

SEASONS 4 & 5
Two-disc release. Unlike the release of the first twelve episodes, this release contains only the German episodes:



Disc One
Folge 71: Der fremde Frosch
Folge 72: Wembleys Wunder-Wasser
Folge 73: Sidebottoms Blues
Folge 74: Onkel Matts Entdeckung
Folge 75: Das neue Lied
Folge 76: Ein Lied für zwei
Folge 77: Die blaue Kugel
Folge 78: Gorg Boober

Disc Two
Folge 79: Wembleys Flug
Folge 80: Der Wunderberg
Folge 81: Der zerbrochene Spiegel
Folge 82: Der Strom des Lebens
Folge 83: Jenseits des Teiches
Folge 84: Aus den Augen, nicht aus dem Sinn
(mislabeled "Aus den Augen, aus dem Sinn," which erroneously translates to "Gone and Forgotten")
Folge 85: Inspektor Red

Each disc further features animated menus; the second disc features trailers for other (non-Muppet) classic children's shows on DVD.




universum film (universum kids)
preliminary design

May 20, 2011

The Complete Series
Collector's box set, containing all thirteen previously released discs (see above listings for details).

(Does not include any of the eleven episodes omitted from this co-production.)