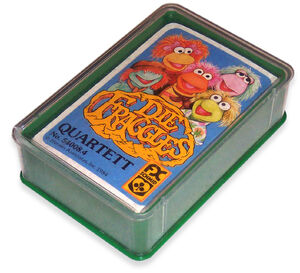 The card game Die Fraggles Quartett was released by the West-German company F.X. Schmid in 1984 as a tie-in with the German Fraggle Rock co-production Die Fraggles.
The game requires at least 3 players. The goal of the game is to create a quartet of a specific character (or group of related characters). Each player takes turns in asking another player about a specific character card. The game ends when all quartets have been collected, while the player with the most cards wins.
Beside the title card, there are 32 different illustrated playing cards for eight possible quartets. The characters of the sets are Gobo, Wembley, Red, Boober, Mokey and the Doozers, Uncle Traveling Matt, and the Gorgs (Ma Gorg, Pa Gorg, Junior Gorg and the Trash Heap). Sprocket appears once with Gobo and once with Uncle Traveling Matt.
Versions
See also