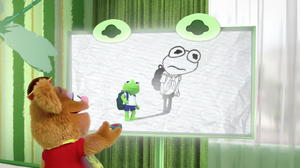 Diary of a Wimpy Kid is a series of young adult fiction books by Jeff Kinney, following the adolescent life of Greg Heffley. The books have since been adapted into a film franchise by 20th Century Fox.
References
Mentions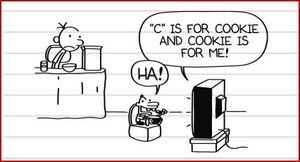 Early in the first novel there is a drawing of the main character (Greg Heffley)'s little brother (Manny), who is watching TV. The TV set is presumably tuned to Sesame Street due to the speech balloon which is saying, "C is for Cookie, and cookie is for me!"
In the third book in the series (The Last Straw), at Greg's friend Rowley Jefferson's sleepover, the six-year-olds invited are interested in Sesame Street "or whatever", "instead of girls," according to Greg.
See also