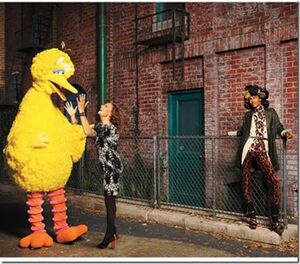 Diane von Fürstenberg (b. 1946) is a Belgian-American fashion designer. She was featured with Big Bird in an issue of Harper's Bazaar as part of Sesame Street's 40th Anniversary.
Known for her signature wrap dress, Fürstenberg's work is part of the collection at the Metropolitan Museum of Art, showcasing her influence on women's fashion.
External links
Ad blocker interference detected!
Wikia is a free-to-use site that makes money from advertising. We have a modified experience for viewers using ad blockers

Wikia is not accessible if you've made further modifications. Remove the custom ad blocker rule(s) and the page will load as expected.