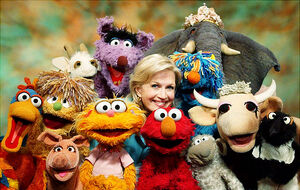 Diane Sawyer (b. 1945) is a former member of President Nixon's White House administration. She began her broadcasting journalism career in Louisville, Kentucky before joining CBS in 1980 and ABC News in 1989.
Sawyer has interviewed the Muppets on Good Morning America, and has appeared on Sesame Street singing "It All Adds Up".
Sawyer contributed a "Favorite Penne with Corn and Tomato Sauce" recipe for Miss Piggy's 1996 cookbook, In the Kitchen with Miss Piggy. She also hosted the 2004 Annual Sesame Workshop Benefit Gala.
References
External links
Ad blocker interference detected!
Wikia is a free-to-use site that makes money from advertising. We have a modified experience for viewers using ad blockers

Wikia is not accessible if you've made further modifications. Remove the custom ad blocker rule(s) and the page will load as expected.