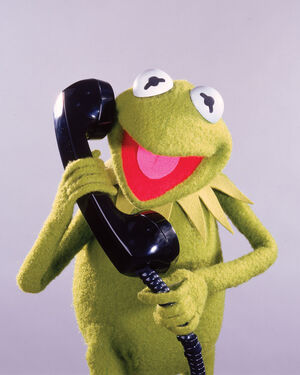 Dial-a-Muppet was a telephone service provided during the 1980s by which someone could call a designated number and hear a pre-recorded joke told by the Muppets. Writers for the sketches included Bill Prady,[1] Chris Grabenstein,[2] and Mitchell Kriegman. The service was managed by Mary Manilla.[3]
Dave Goelz recalls a particular recording session in Jim Henson: The Works:
"

Each one had to time exactly fifty-five seconds, so we arranged ourselves in a circle with an oversized stopwatch facing upward in the center. It was late, we were all tired, and sure enough, as I began a solo segment I mispronounced a word and Jim and Frank began to giggle. It was impossible for me to continue. I asked them to leave. Frank obliged by going into the drum room behind me. Jim was sure it would be all right if he just crouched behind his music stand, which was directly in my line of sight.

A music stand does not conceal much of a six-foot-three-inch man. True, I could not see his face, but his jacket, hands and legs were wiggling as he wheezed and convulsed. Meanwhile, Frank's strangled laughter escaped from the sealed drum room as a whining, crying sound reminiscent of a tortured Miss Piggy. The engineers shifted in their seats. I was laughing so hard there was no way I could pull myself together.

After the customary twenty minutes of reeling around the room gasping like morons, nature took its course and the three of us calmed down enough to resume work."
Sources
↑ E-mail correspondence with Bill Prady via Scott Hanson
↑ Buckley, Julia. "Chris Grabenstein's Topsy Turvy Year", Mysterious Musings. September 5, 2006.
↑ Boston Globe "Children's Advocacy Group Asks FTC To Regulate TV Ads" by Wendy Fox, Aug 7, 1985
Ad blocker interference detected!
Wikia is a free-to-use site that makes money from advertising. We have a modified experience for viewers using ad blockers

Wikia is not accessible if you've made further modifications. Remove the custom ad blocker rule(s) and the page will load as expected.