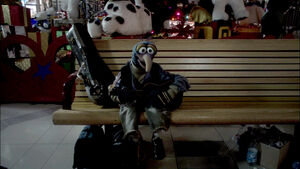 Born John Charles Barrett, Desmond Child (b. 1953) co-wrote "Everyone Matters" with Davitt Sigerson for It's a Very Merry Muppet Christmas Movie in 2002. Both were Emmy nominated in 2003 for "Outstanding Music and Lyrics".
His hit songs include "Livin' la Vida Loca," "Livin' on a Prayer," "Dude (Looks Like a Lady)," and "Elephant Love Song" from Moulin Rouge! And he has worked with musicians ranging from Steven Tyler and Ricky Martin to Alice Cooper and Cher.
External links
Ad blocker interference detected!
Wikia is a free-to-use site that makes money from advertising. We have a modified experience for viewers using ad blockers

Wikia is not accessible if you've made further modifications. Remove the custom ad blocker rule(s) and the page will load as expected.