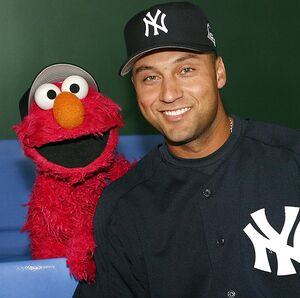 Derek Jeter (b. 1974) is a shortstop for the New York Yankees. Elmo spent time with Jeter in the dugout at an exhibition game against the Yomiuri Giants at the Tokyo Dome on March 28, 2004.
A baseball player before an actor, Jeter has hosted Saturday Night Live, and made guest appearance as himself on Seinfeld.
References
External links
Ad blocker interference detected!
Wikia is a free-to-use site that makes money from advertising. We have a modified experience for viewers using ad blockers

Wikia is not accessible if you've made further modifications. Remove the custom ad blocker rule(s) and the page will load as expected.