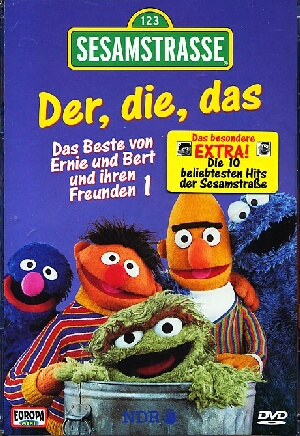 | | |
| --- | --- |
| Release Date | 2000 |
| Produced by | Europa |
| Format | DVD |
| Discs | 1 |
| Region | 2 |
| ISBN | 0743217841690 |
| ASIN | |
Der, die, das is a 2000 Sesamstrasse video. The title is a reference to the first three words in the "Sesamstrasse Theme": "Der, die, das (wer, wie, was – wieso, weshalb, warum – wer nicht fragt, bleibt dumm!)"
Segments
Der, die, das!
Ernie plant ein Bad
Der Vertreter für Ohrenschützer
Susanne Klickerklacker: "Durch"
Im Garten eines Kraken
Plonsters: Angeln
Waschtag
Quietsche-Entchen (Rubber Duckie)
Glückstag: Ein neuer Ober
Pinguine
Theodor Tollpatsch: Füße
Der Fisch-Ruf
Matsch-Notstand
Knochen
Malen
Plonsters: Schlafen
Ernie zählt Schafe
Die monsterschlaue Prüfmaschine
20 Saure Gurken-Kuchen
Die Telefon-Banane
Pass gut auf Natascha auf
Hätt' ich Dich heut' erwartet....
Ernie verbuddelt Bert
Der Wasser-Landfrosch vom Inselstrand
Ernie, und der Mann, der Hilfe braucht
Other releases
Ad blocker interference detected!
Wikia is a free-to-use site that makes money from advertising. We have a modified experience for viewers using ad blockers

Wikia is not accessible if you've made further modifications. Remove the custom ad blocker rule(s) and the page will load as expected.