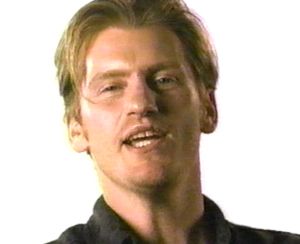 Denis Leary (b. 1957) is a stand-up comedian and actor who starred in the comedy/dramas The Job and Rescue Me. He made a cameo appearance in the music video She Drives Me Crazy, at one point affecting a pig nose in honor of Miss Piggy.
During his guest appearance on The Late Late Show on June 2, 2009, surprise guest Fozzie Bear appeared during the show's cold open in the comedian's dressing room to run a few jokes by him. When Leary ran a couple of better suited jokes by host Craig Ferguson, the latter announced to cut the bear's stand-up routine. Still, Fozzie tried to come on at the very end of the show, only to be told by Ferguson that his time was up, and that he would have to come back another time.
External links
Ad blocker interference detected!
Wikia is a free-to-use site that makes money from advertising. We have a modified experience for viewers using ad blockers

Wikia is not accessible if you've made further modifications. Remove the custom ad blocker rule(s) and the page will load as expected.