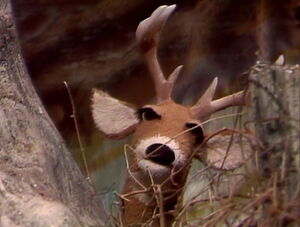 A deer appeared in The Muppet Show episode 221 as one of the Woodland Animals in the "For What It's Worth" number.
The puppet appeared in several other episodes of the series, as well as John Denver and the Muppets: A Christmas Together, the wedding sequence of The Muppets Take Manhattan, A Muppet Family Christmas, and episode 107 of The Jim Henson Hour.
Another deer named Robert the Red Deer was seen in episode 124 of The Animal Show.
Ad blocker interference detected!
Wikia is a free-to-use site that makes money from advertising. We have a modified experience for viewers using ad blockers

Wikia is not accessible if you've made further modifications. Remove the custom ad blocker rule(s) and the page will load as expected.