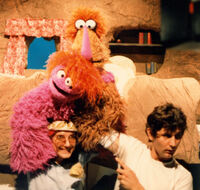 Deena and Pearl were created for Season 12[1] of Sesame Street as a monster duo, similar to Bert and Ernie. They virtually disappeared after one season.
These sketches, featuring the young, energetic Deena and her caretaker Pearl, took place in the cave where they lived.
Sketches
Picture
EKA
Description

Episode 1454
Baby Deena
Deena wants to play baby. Pearl wants to sleep but is talked into playing after Deena tells her that the baby wants to sleep. However, the game gets more complicated than Pearl had counted on.

 
Toy Box
Pearl gets Deena to put away her toys by making a game of it. When the room is clean, Deena wants to play again, so she throws all her toys back on the floor.

 
Underwater
Deena and Pearl pretend they are underwater.

 
Pearl is Sick
Pearl's sick in bed, and Deena tries to help her as much as she can. She dresses up as a fireman and a cowboy before dressing up as her father to take care of her.
Sources
↑ Season 12 Press Kit, CTW Archives