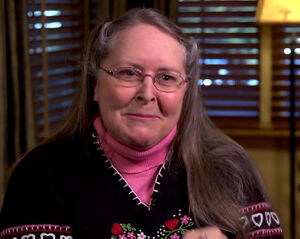 Debra Spinney (often referred to as Debi) is a former staffer of the Children's Television Workshop, and the wife and manager of Muppeteer Caroll Spinney. She is credited as "For Big Bird," along with Kermit Love, in Big Bird in China.
She appeared in on-screen, together with Jon Stone and Kermit Love, in episode 750 of Sesamstrasse in 1981, as revealed in a comic strip by Caroll.
She has also made cameos in the crowd scene toward the ending of Follow That Bird, and the "Sing" finale of Sesame Street: 20 and Still Counting. Below the frame, she puppeteered Simon Soundman during the "Carol Sing" in A Muppet Family Christmas.[1]
Notes
Sources
↑ Home video footage recorded by the Spinneys, later incorporated in "Jim Henson: Behind the Seams" screening at the Museum of the Moving Image