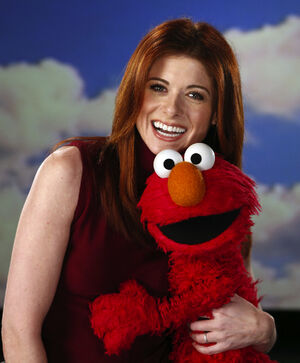 Debra Messing (b. 1968) is an American actress best known for her role as Grace Adler on Will and Grace.
She appeared in the 40th season of Sesame Street, explaining the word "nature" in Episode 4190. She also made appearances in the Shalom Sesame episodes "Grover Learns Hebrew" and "Grover Plants a Tree" (a reused scene from her season 40 appearance).
Messing also provided the voice of Arlene in the 2004 Garfield feature film. Other television credits include Seinfeld, King of the Hill, and NYPD Blue
External links
Ad blocker interference detected!
Wikia is a free-to-use site that makes money from advertising. We have a modified experience for viewers using ad blockers

Wikia is not accessible if you've made further modifications. Remove the custom ad blocker rule(s) and the page will load as expected.