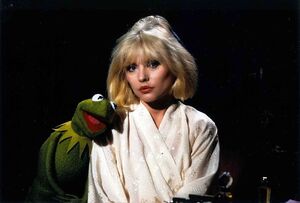 Debbie Harry (b. 1945) guest starred on episode 509 of The Muppet Show. She is the lead singer of the rock group Blondie, who did not appear in the episode. During the show she performed Blondie's song "One Way or Another" and their #1 hit "Call Me". She also sang "The Rainbow Connection" as a duet with Kermit.
She was inducted to the Rock and Roll Hall of Fame as a member of Blondie on March 13, 2006.
External links
Ad blocker interference detected!
Wikia is a free-to-use site that makes money from advertising. We have a modified experience for viewers using ad blockers

Wikia is not accessible if you've made further modifications. Remove the custom ad blocker rule(s) and the page will load as expected.