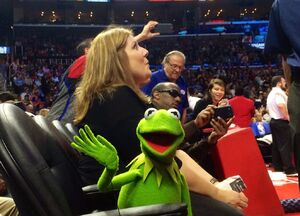 Debbie McClellan is the Vice President of The Muppets Studio and has served as producer on many Muppet projects with The Walt Disney Company. Prior to this role, McClellan was Director of Creative Affairs of The Muppets Studio.
Prior to her role at Disney, McClellan served as Vice President of Corporate Communications and Publicity for The Jim Henson Company. She continues to be a liaison between Disney, the Henson Company, the Henson family, and The Jim Henson Legacy.
Credits
Sources
Ad blocker interference detected!
Wikia is a free-to-use site that makes money from advertising. We have a modified experience for viewers using ad blockers

Wikia is not accessible if you've made further modifications. Remove the custom ad blocker rule(s) and the page will load as expected.