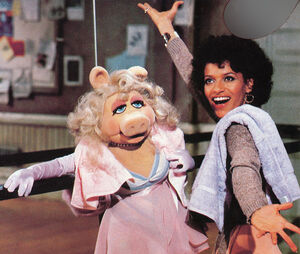 Debbie Allen (b. 1950) is an Emmy award-winning actress, dancer, director, producer, and choreographer who appeared in the television series Fame.
She was interviewed in the Spring 1982 issue of Muppet Magazine. At the 2003 Celebration of Diversity Awards, she shared a kiss with Elmo.
Allen's Broadway credits include choreographing the ill fated musical Carrie (based on Stephen King's novel), appearing in Ain't Misbehavin', West Side Story, and Tennessee Williams' Cat on a Hot Tin Roof. Among her television credits are appearances on Everybody Hates Chris, The Cosby Show, and the Love Boat.
External links
Ad blocker interference detected!
Wikia is a free-to-use site that makes money from advertising. We have a modified experience for viewers using ad blockers

Wikia is not accessible if you've made further modifications. Remove the custom ad blocker rule(s) and the page will load as expected.