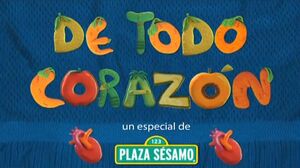 De Todo Corazón (With All My Heart) is a Plaza Sésamo special that aired on January 22, 2012 on señalcolombia, a Colombian network.
The special talks about the human heart, why it's important and how we can keep it healthy. The special stars the Muppet characters Pancho, Lola and Elmo, as well as celebrity appearances by Oscar Cordoba, Choquibtown, Sebastian Yepes, Claudia Elena Vasquez, Javier Jattin and chef Leonor Espinosa.
Ad blocker interference detected!
Wikia is a free-to-use site that makes money from advertising. We have a modified experience for viewers using ad blockers

Wikia is not accessible if you've made further modifications. Remove the custom ad blocker rule(s) and the page will load as expected.