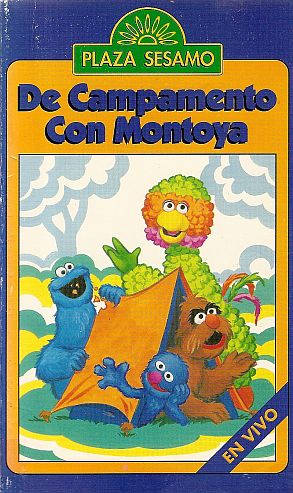 | | |
| --- | --- |
| Release Date | 1993 |
| Produced by | Video Emocion |
| Format | VHS |
Bodoque and Montoya go on a camping trip, and Bodoque learns to take good care of nature, and to not cut down every tree he sees, or drain the lake to catch the fish.
Segments
Willie Wimple: Littering
Willie Wimple: Water Pollution
Willie Wimple: Tree Cutting
Plaza Sesamo cartoon: "Prohibido Fumar" -- An owl (voice of Jaime Vega) smokes a cigar in front of the other woodland animals.
Film: A poem about trees. (Underscore by Joe Raposo)
Grover finds a bird's nest in a tree.
Cartoon: A man plays his flute in the forest with a bird, until a construction crew clears the forest.
Anything Muppets sing "The Garden".
Sesame Street Animal Films: Two bears play in the woods and in the river.
Plaza Sesamo film: waterfall
Film: Animal homes.
Notes
The on-screen title during the program is "De Campamento".
Ad blocker interference detected!
Wikia is a free-to-use site that makes money from advertising. We have a modified experience for viewers using ad blockers

Wikia is not accessible if you've made further modifications. Remove the custom ad blocker rule(s) and the page will load as expected.