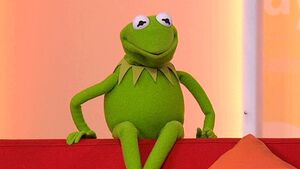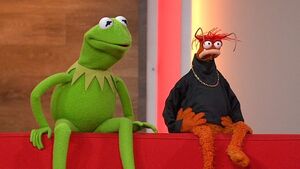 Daybreak is a weekly breakfast television series on the ITV network in the United Kingdom. It replaced GMTV in 2010 and is currently presented by Dan Lobb and Kate Garraway. In 2012, it was announced that Aled Jones and Lorraine Kelly would become the new permanent presenters later that May.
Kermit the Frog appeared on the show on February 10, 2012 to promote the United Kingdom premiere of The Muppets. He came in to talk with Dan Lobb and Kate Garraway about the film and a message from Daniel Radcliffe.
On June 11, 2012, Kermit and Pepe the King Prawn appeared on the show to promote the British home video release of The Muppets. Kermit appeared in his reporter outfit (without the illustrious fedora) to present the morning forecasts of that day.
External links