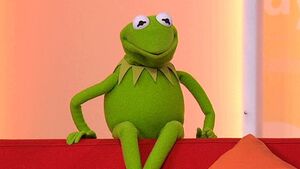 Daybreak was a daily breakfast television series on the ITV network in the United Kingdom. It replaced GMTV in 2010 and is currently presented by Dan Lobb and Kate Garraway. In 2012, it was announced that Aled Jones and Lorraine Kelly would become the new permanent presenters later that May. Daybreak was replaced by Good Morning Britain in 2014.
Appearances
February 10, 2012 -- Kermit the Frog appeared on the show to promote the United Kingdom premiere of The Muppets. He came in to talk with Dan Lobb and Kate Garraway about the film and a message from Daniel Radcliffe.
External links
Ad blocker interference detected!
Wikia is a free-to-use site that makes money from advertising. We have a modified experience for viewers using ad blockers

Wikia is not accessible if you've made further modifications. Remove the custom ad blocker rule(s) and the page will load as expected.