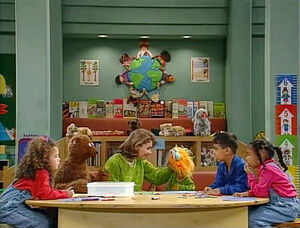 The Day Care Center on Sesame Street has, like Hooper's Store, changed hands several times over the years. It was first introduced in Season 21, when Maria and Luis sought a daycare provider for Gabi. The original owner was the matronly Lillian, who also cared for Muppet toddlers as well. By Season 25, Lillian had departed (though the actress who portrayed her, Lillias White, continued to perform on the show in voiceovers), and the new owner was Angela, who had a toddler of her own, Kayla. The Day Care Center became more prominent as a physical presence, as part of the new "Around the Corner" set.
Two years later, Angela and her family likewise moved, and Gina, already a comforting presence for the kids on Sesame Street, took over for several years, before becoming a veterinarian. The last appearance of "The Day Care Center" was in The Adventures of Elmo in Grouchland, when "Around the Corner" was dropped from the show.
Trivia
A "Sesame Street LMN Day Care Center" in the Gravesend neighborhood of Brooklyn has had its permits suspended by the New York City Health Department.[1]
Sources
↑ Yoav Gonen, "Brooklyn day-cares go beddy bye-bye", New York Post, September 10, 2010