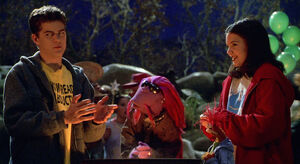 Dawson's Creek was an American television drama which aired from 1998 to 2003 on The WB Television Network. The show was set in Massachusetts, and followed the lives of Dawson Leery and his friends as they went through High School, and began adulthood.
Joshua Jackson and Katie Holmes made an appearance in Muppets from Space as their characters from the show.
Connections
External links
Ad blocker interference detected!
Wikia is a free-to-use site that makes money from advertising. We have a modified experience for viewers using ad blockers

Wikia is not accessible if you've made further modifications. Remove the custom ad blocker rule(s) and the page will load as expected.