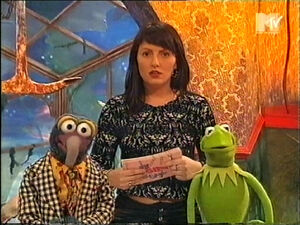 Davina McCall (b. 1967) is a British actress and TV host; most notably for UK's version of Big Brother.
On May 21, 1996, Kermit, Gonzo, and Miss Piggy appeared on her MTV Europe live show Hanging Out to take calls from the audience.
In 2006, McCall appeared in Best Ever Muppet Moments.
External links
Ad blocker interference detected!
Wikia is a free-to-use site that makes money from advertising. We have a modified experience for viewers using ad blockers

Wikia is not accessible if you've made further modifications. Remove the custom ad blocker rule(s) and the page will load as expected.