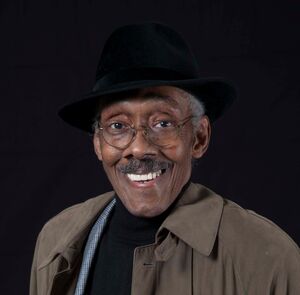 David Langston Smyrl (September 12, 1935 - March 22, 2016) was an actor and writer who played Mr. Handford, the owner of Hooper's Store, on Sesame Street from 1990 to 1998 (replacing Leonard Jackson). Smyrl also co-wrote the songs in episode 3717 with Ian James.
Smyrl began his career as a coffeehouse poet in the 1960s, and appeared in the Broadway musical Working (1978). In 1980, relocating to California, Smyrl became a staff writer on the sitcom Benson. He subsequently worked on The Cosby Show as a gag writer, audience warm-up man, and recurring guest performer, appearing in five episodes, notably as contractor Sam Lucas. Film credits include a small role in The Preacher's Wife, and on television, Smyrl appeared twice in Law & Order. An active voice-over performer, Smyrl was heard in many national commercials, in addition to narrating Ralph Bakshi's two Malcolm and Melvin shorts for Cartoon Network and voicing Henry Radiman in the online animated series Anarchy.
External links
Ad blocker interference detected!
Wikia is a free-to-use site that makes money from advertising. We have a modified experience for viewers using ad blockers

Wikia is not accessible if you've made further modifications. Remove the custom ad blocker rule(s) and the page will load as expected.