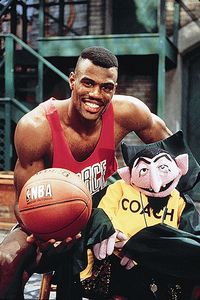 David Robinson (b. 1965) is a retired American NBA basketball player, who played center for the San Antonio Spurs for his entire NBA career and he won two championships, the second which he won in his final season.
Robinson appeared on a 1997 episode of Sesame Street in a segment where Count von Count and a group of kids count how many times he can dribble a basketball.
He also appeared in a celebrity version of "The Alphabet Song".