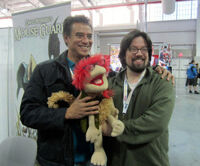 David Petersen is a comic book artist and writer best known for creating Mouse Guard for Archaia Studios Press in 2006.
He has provided cover artwork for BOOM Studios Muppet titles Muppet Robin Hood, Muppet Peter Pan, Muppet King Arthur and Muppet Snow White. He also illustrated a promotional image for The Dark Crystal comic book and a cover for the Fraggle Rock comic book.

External links
Ad blocker interference detected!
Wikia is a free-to-use site that makes money from advertising. We have a modified experience for viewers using ad blockers

Wikia is not accessible if you've made further modifications. Remove the custom ad blocker rule(s) and the page will load as expected.