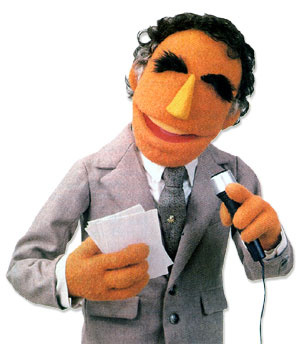 David Lazer Muppet, referred to as "The Company Man" on Henson.com, is a Muppet parody caricature of The Muppet Show executive producer David Lazer. This character appeared as an ever-smiling, pompous corporate executive in several Muppet Meeting Films, beginning with "Who Needs a Break." In the 1992 entry "Executive's Island," the character was named Finneman.
The David Lazer Muppet also appeared in The Muppets: A Celebration of 30 Years.
Ad blocker interference detected!
Wikia is a free-to-use site that makes money from advertising. We have a modified experience for viewers using ad blockers

Wikia is not accessible if you've made further modifications. Remove the custom ad blocker rule(s) and the page will load as expected.