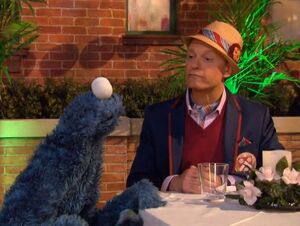 David Hyde Pierce (b. 1959) is an American actor, best known for his role as Dr. Niles Crane on Frasier, the brother of the titular character. His other well-known roles include Slim from Pixar's A Bug's Life, Cecil Terwilliger on The Simpsons and Sir Robin in Monty Python's Spamalot on Broadway.
Pierce made a brief cameo in the Sesame Street outreach video, Healthy Teeth, Healthy Me, during the "Brushy Brush" song and appeared in the 43rd season as Commander Chiphead in the season premiere.
Grover tweeted about Pierce, saying: "I am glad to report that Halle Berry is not actually made of berries, and David Hyde Pierce does not run and 'hyde.' Who knew?"
Ad blocker interference detected!
Wikia is a free-to-use site that makes money from advertising. We have a modified experience for viewers using ad blockers

Wikia is not accessible if you've made further modifications. Remove the custom ad blocker rule(s) and the page will load as expected.