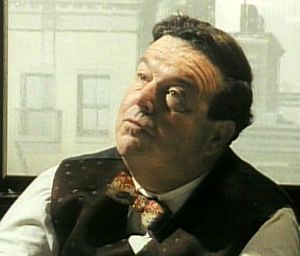 David Healy (1929-1995) was a New York-born character actor who spent the greater part of his career in England, and voiced the Right Door Knocker in Labyrinth.
With a bluff manner, portly frame, and American accent, Healy found steady work as blustery fathers, businessmen, and politicians. As a voice actor, Healy was heard on the puppet series Joe 90 and Captain Scarlet and the Mysterons. On-camera, he played a priest in Patton, appeared in the James Bond films Diamonds Are Forever and You Only Live Twice, and played a newspaper editor in Supergirl. Television roles included Dr. Watson in the Sherlock Holmes tale The Sign of Four, appearances on the Wodehouse adaptations Wodehouse Playhouse and Jeaves and Wooster, and on return visits to America, guest spots on Charlie's Angels and Vega$, and a recurring role as Chick Harvard on Dallas (co-starring old friend Larry Hagman).
External links
Ad blocker interference detected!
Wikia is a free-to-use site that makes money from advertising. We have a modified experience for viewers using ad blockers

Wikia is not accessible if you've made further modifications. Remove the custom ad blocker rule(s) and the page will load as expected.