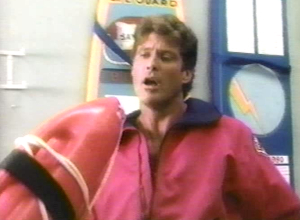 David Hasselhoff (b. 1952) is an actor best known for his starring role as head lifeguard Mitch Buchannon on Baywatch.
Hasselhoff made a cameo in the video for Kermit and Miss Piggy's "She Drives Me Crazy," and later in a Pepe's Profiles segment to wish Kermit a happy 50th birthday from the premiere of The Muppets' Wizard of Oz.
Hasselhoff was spoofed on Muppets Tonight as David Hoggselhoff, the star of Bay of Pigswatch.
Hasselhoff also served as a judge on America's Got Talent for 4 seasons. During this time, the Muppets made several guest appearances. Animal impersonated him, in one appearance, too.
External links
Ad blocker interference detected!
Wikia is a free-to-use site that makes money from advertising. We have a modified experience for viewers using ad blockers

Wikia is not accessible if you've made further modifications. Remove the custom ad blocker rule(s) and the page will load as expected.