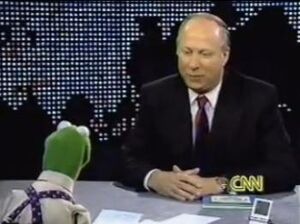 David Gergen (b. 1942) is a political consultant and presidential advisor to Richard Nixon, Gerald Ford, Ronald Reagan and Bill Clinton.
Gergen was interviewed by guest host Kermit the Frog on Larry King Live on April Fools Day, 1994.
Gergen was a regular commentator on The MacNeil/Lehrer NewsHour, is a regular political contributor to CNN (often appearing on Anderson Cooper 360, MSNBC's Hardball with Chris Matthews, and appeared in a documentary about The West Wing.
External links
Ad blocker interference detected!
Wikia is a free-to-use site that makes money from advertising. We have a modified experience for viewers using ad blockers

Wikia is not accessible if you've made further modifications. Remove the custom ad blocker rule(s) and the page will load as expected.