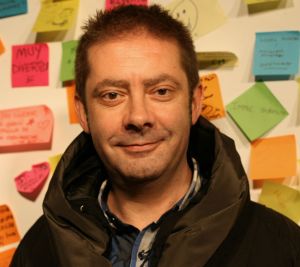 David García Vázquez is a Spanish voice actor who has been heard in the Castilian dubs of several Muppet/Creature Shop productions, notably as Sam the Eagle in the films and Grover in Juega Conmigo, Sésamo. He also served as voice director for the dubs of Muppets from Space and It's a Very Merry Muppet Christmas Movie.
An active voice actor since 1990, Vázquez is the official voice of Disney's Goofy in all productions, and has also been heard in The Emperor's New Groove (as Kronk), Lilo and Stitch (the hula teacher), and the Pixar films The Incredibles (as Bernie Krupp) and Cars (as Mack). His other animation dub credits include The Pink Panther Show (for the title character's occasional speaking roles), The Simpsons (as Kent Brockman, Lionel Hutz, Dr. Hibbert, the Comic Book Guy, and others), Gargoyles (as Jackal and Talon), and several superhero series: Batman: The Animated Series (as the Riddler), Spider-Man (as Blade and Hydro-Man), and Superman (as Parasite). His live-action dub credits include Jason Narvy as Skull in the Power Rangers franchise, George Wendt on The Naked Truth, and Rob Schneider in The Waterboy.
Henson Dub Credits
Ad blocker interference detected!
Wikia is a free-to-use site that makes money from advertising. We have a modified experience for viewers using ad blockers

Wikia is not accessible if you've made further modifications. Remove the custom ad blocker rule(s) and the page will load as expected.