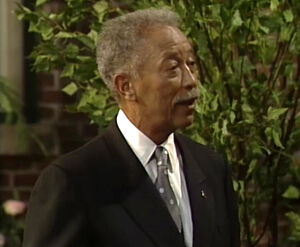 David Norman Dinkins (b. 1927 in Trenton, New Jersey) was the Mayor of New York City from 1989 through 1993, the first (and, to date, only) African American to hold that office.
In 1991, Dinkins appeared on Sesame Street in episode 2840, giving Gordon an award.
Ad blocker interference detected!
Wikia is a free-to-use site that makes money from advertising. We have a modified experience for viewers using ad blockers

Wikia is not accessible if you've made further modifications. Remove the custom ad blocker rule(s) and the page will load as expected.