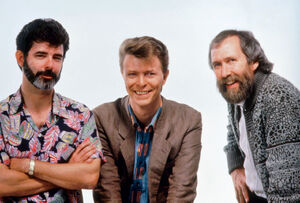 David Bowie (1947-2016) was a pop singer and actor who starred in Labyrinth as Jareth, the Goblin King, and wrote all the songs for the movie.
On February 15, 1985, Jim Henson's Red Book noted that David Bowie's "deal is set." From the start of development in 1983, Henson knew he wanted to collaborate with a major performer for the music of Labyrinth, and to have them play Jareth. Along with knowing and appreciating Bowie's work, and his son John's fandom for the performer, Henson was drawn to Bowie's "other-worldliness and energy", a good match for the film's world.[1]
Two music videos were produced for songs from the movie featuring Bowie as himself: "As the World Falls Down" and "Underground", both of which include footage from the film and feature new content with Hoggle and other characters from The Labyrinth.
Bowie worked with the Creature Shop again in 1999 for his music video for "The Pretty Things Are Going to Hell." Although it was never released, the puppet modeled after Bowie's Ziggy Stardust persona, can be seen at Rick Lyon's website.
Bowie's other film roles include John Landis's Into the Night (which features a cameo by Jim Henson), Pontius Pilate in The Last Temptation of Christ, Phillip Jeffries in Twin Peaks: Fire Walk with Me, Andy Warhol in Basquiat, and Nikola Tesla in The Prestige.
Dr. Teeth and the Electric Mayhem performed Bowie's "Suffragette City" at The Muppets Take the Bowl in 2017.
Sources
External links