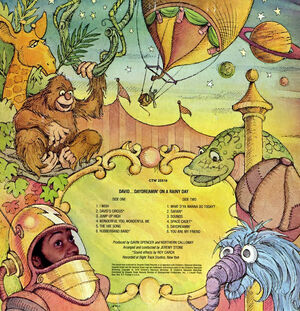 David, Daydreamin' on a Rainy Day is a Northern Calloway solo album. The record's story is that David is home on a rainy day on Sesame Street. He goes through his toys to find ways to play and imagine indoors.
Although he mentions the other cast members (Maria, Bob and others) in the song "David's Circus", none of them make an appearance.
This album was also included in the 3-LP set Somebody Come and Play on a Rainy Day.
Track listing
Side One
Side Two
Credits
Produced by Gavin Spencer and Northern Calloway
Arranged and conducted by Jeremy Stone
Sound effects by Roy Carch
See also
Ad blocker interference detected!
Wikia is a free-to-use site that makes money from advertising. We have a modified experience for viewers using ad blockers

Wikia is not accessible if you've made further modifications. Remove the custom ad blocker rule(s) and the page will load as expected.