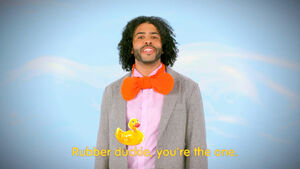 Daveed Diggs (b. 1982) is an actor and rap musician who won a Tony for Best Actor in a Featured Role for the Broadway musical Hamilton (where he originated the parts of Thomas Jefferson and Marquis de Lafayette). For Season 47 of Sesame Street, Diggs was cast as one of Mr. Noodle's brothers, Mr. Noodle in the new "Elmo's World" segments. He also sang (and rapped) "Rubber Duckie" on the official Sesame Street YouTube channel, and (in character as Mr. Noodle's brother) in a celebrity version (First: Episode 4710).
Diggs has been a member of the rap group clipping since 2010, and has performed with other groups and on specific tracks. He followed his success in Hamilton with TV work, including two appearances on Law & Order: Special Victims Unit (as defense attorney Henderson), a recurring role as Johan on the sitcom Black-ish, and playing the adult Books on the Netflix series The Get Down.
External links
Ad blocker interference detected!
Wikia is a free-to-use site that makes money from advertising. We have a modified experience for viewers using ad blockers

Wikia is not accessible if you've made further modifications. Remove the custom ad blocker rule(s) and the page will load as expected.