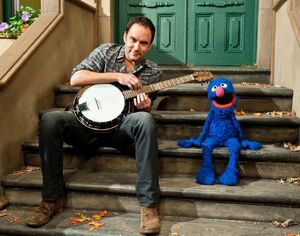 Dave Matthews (b. 1967) is a popular singer-songwriter, musician and actor, best known for his role in the "Dave Matthews Band." He's also appeared in such movies as Because of Winn-Dixie and You Don't Mess with the Zohan (with Adam Sandler).
Matthews appears in a season 44 episode of Sesame Street, singing "I Need a Word" with Grover, a song he co-wrote with Joey Mazzarino.
Ad blocker interference detected!
Wikia is a free-to-use site that makes money from advertising. We have a modified experience for viewers using ad blockers

Wikia is not accessible if you've made further modifications. Remove the custom ad blocker rule(s) and the page will load as expected.