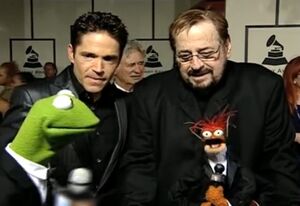 Dave Koz (b. 1963) is an American smooth jazz saxophonist. He played in the house band for The Pat Sajak Show and The Emeril Lagasse Show. He also made an appearance on Desperate Housewives where he performed his song, "Start All Over Again."
Koz with Phil Ramone was interviewed by Kermit and Pepe in a February 2008 Disney Xtreme Digital "Breakin' News" video covering the Grammy Awards.
External links
Ad blocker interference detected!
Wikia is a free-to-use site that makes money from advertising. We have a modified experience for viewers using ad blockers

Wikia is not accessible if you've made further modifications. Remove the custom ad blocker rule(s) and the page will load as expected.