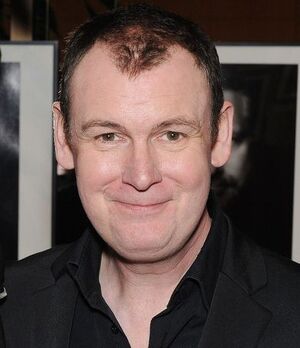 Dave Elsey is an Oscar-winning special effects artist and designer, specializing in animatronics and prosthetic make-up. He has worked with Jim Henson's Creature Shop on multiple projects, most notably as creature designer/supervisor for Farscape, notably designing the prosthetic makeup for Scorpius and working on episodic characters (including animatronic aliens). Elsey was the on set creature supervisor for the Creature Shop-effects film Where the Wild Things Are.
For his work on the remake of The Wolfman, Elsey shared an Oscar with famed effects make-up designer Rick Baker in 2011, for Best Achievement in Makeup. Before Farscape, Elsey's early work included a stint as animatronic technician on Little Shop of Horrors (with many past and future Henson employees), work on the lead monsters in Candyman and Hellraiser, senior makeup effects (and a cameo as a zombio) on Waxwork, and creating aliens for Alien 3. He did special makeup effects on both Mission: Impossible and its immediate sequel and was creative supervisor for the new aliens in Star Wars Episode III: Attack of the Sith. He supervised the makeup for Beast in X-Men: First Class and was makeup and hair designer for Ian McKellen as Mr. Holmes.
Elsey's wife, Lou Elsey, worked with him on Farscape and Where the Wild Things Are.
Henson/Creature Shop credits
External links