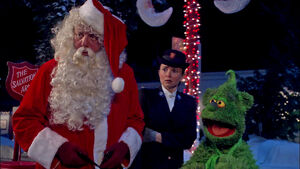 Dave "Squatch" Ward is a Scots-born actor who has worked in Canada since the late 1980s. He appeared in It's a Very Merry Muppet Christmas Movie as the Salvation Army Santa Claus encountered by Fozzie Bear, whose bag of toys is mistook by Fozzie for the bag of money.
Ward also played a taxi driver in the 2002 feature comedy Snow Dogs, which featured an animatronic character from Jim Henson's Creature Shop.
Ward has been active as a voice artist, dubbing Japanese animated series like Dragon Ball Z (King Kai and Guldo), Movile Suit Gundam Wing (Doctor J and Master Long Shirin), and Hamtaro (Elder Hamster).
On-camera, he was a regular as Ned Bell in the Disney Channel series So Weird, and appeared in the films Stay Tuned, Car Pool, and Ernest Rides Again.
External links
Ad blocker interference detected!
Wikia is a free-to-use site that makes money from advertising. We have a modified experience for viewers using ad blockers

Wikia is not accessible if you've made further modifications. Remove the custom ad blocker rule(s) and the page will load as expected.