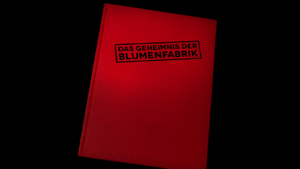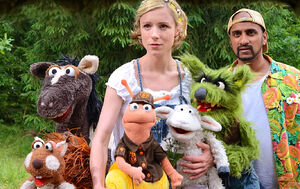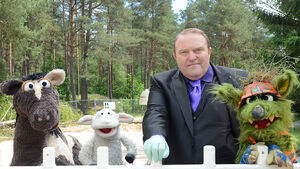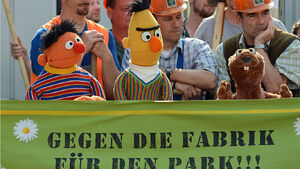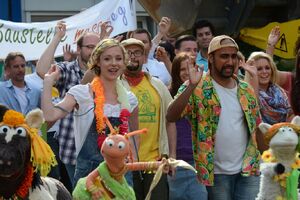 Das Geheimnis der Blumenfabrik (The Secret of the Flower Factory) is a 2x50-minute German TV movie starring Wolle and Pferd of Sesamstrasse, and featuring supporting characters from their spin-off, Eine Möhre für Zwei.
Knuspel, a squirrel, tells Wolle and Pferd that the Eichenpark ("Oak Park") where she lives is going to be torn down to make way for a plastic flower factory. The new friends work together to stop the park's destruction, with the accomplished help from toilet and ex-secret-agent Günni, recalling tips and tricks from the time he worked undercover in the United Kingdom.
The movie, actually part of the show's 3rd season, aired on March 28 and 29, 2013 (as a special Easter event), on children's TV network KIKA, in celebration of the 40th anniversary of Sesamstrasse. For subsequent airings, the film is expected to be divided into ten individual episodes (all but the final episode reading "to be continued..." as they conclude).
Notes
The movie premiered at a special theater screening for cast and crew on March 24, 2013, at Hamburg indie theater Abaton. Additional tickets were raffled off through the show's official website.
Unusual for a German Sesame production, this TV movie includes a specially produced animated title sequence, as well as a closing sequence crediting cast and crew by name.
Cast
Muppets
Humans
See also
External links
Ad blocker interference detected!
Wikia is a free-to-use site that makes money from advertising. We have a modified experience for viewers using ad blockers

Wikia is not accessible if you've made further modifications. Remove the custom ad blocker rule(s) and the page will load as expected.