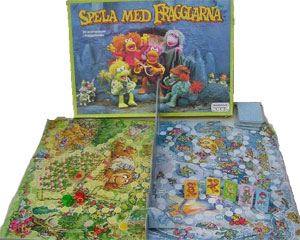 Das Fraggles-Spiel (The Fraggle Game) is a Fraggle Rock board game released in Germany by Ravensburger in 1984. The game was available in Europe only.
The box contains a three dimensional board (one half inside Fraggle Rock, one half in the Gorgs' garden, divided by a "wall"), five playing pieces (Gobo, Red, Wembley, Boober and Mokey) with stands, two dices, twelve task cards and five round radish cards.
This game is for two to five players. Each Fraggle gets two task cards with locations inside Fraggle Rock like the Echo Hole or Gobo and Wembley's Room, which you have to reach. You also have to steal a radish from the Gorgs' garden. But watch out: by turning the wheel, you can place obstacles inside the rock, set off one of Junior's Fraggle traps or be sent to the Trash Heap! If you've completed both tasks and taken a radish, you have to dive in the Fraggle pond in order to win. The pond can be reached from inside Fraggle Rock or from the Gorg's Garden, by jumping into the well.
This board game seems to be a combination of The Fraggle Trap Game by Falcon Games and the Fraggle Rock Game by Milton Bradley.
Versions
See also