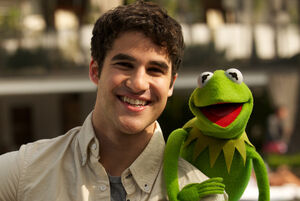 Darren Criss (b. 1987) is an American actor best known for his role as Blaine Anderson on Glee.
Criss performed with Kermit the Frog at the 2012 Academy Awards preshow on E! on Feburary 26. Criss posted a picture of himself with Kermit on Twitter the day before the ceremony.
The appearance at the Hollywood Roosevelt Hotel was hosted by Ross Mathews. Criss and Kermit, both in tuxedos, sang "The Rainbow Connection," with Criss on guitar. Afterwards, the Glee star invited Kermit to come on his show, to which the frog invited Criss to appear in the next Muppet movie.
Criss' other credits include playing Harry Potter in the spoof A Very Potter Musical, and the Broadway musical How to Succeed in Business Without Really Trying.
External links