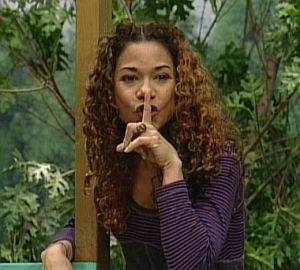 Daphne Rubin-Vega (b. 1969) is a singer and Broadway actress who was nominated for a Tony Award for originating the role of Mimi Marquez in Rent. Early in her career, Rubin-Vega (credited as Daphne Vega) sang backup for David Bowie on "Underground" in the Creature Shop film Labyrinth.
Following her success in Rent, Rubin-Vega guest starred in the 1997 Sesame Street video Quiet Time, in which she sings to Big Bird about the joys one becomes aware of when listening silently.
Other work includes the 2006 Broadway revival of Les Misérables (as Fantine), the film Wild Things, and a guest spot on Law & Order: Criminal Intent.
External links
Ad blocker interference detected!
Wikia is a free-to-use site that makes money from advertising. We have a modified experience for viewers using ad blockers

Wikia is not accessible if you've made further modifications. Remove the custom ad blocker rule(s) and the page will load as expected.