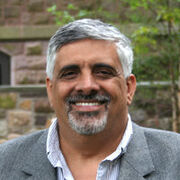 Daoud Kuttab is the executive producer of Hikayat Simsim, the Palestinian co-production of Sesame Street. He is contracted through PEN Media, an NGO, to produce the series.
In 2003, he said: "We are proud to have been able to produce this high quality series dealing with issues of culture and pride, as well as respecting the other, despite the difficult circumstances that we and our children are going through."[1]
Kuttab is a Palestinian journalist and former professor at Princeton. He established the news website AmmanNet.
Sources
↑ "Middle East Elmo", Something Jewish, October 23, 2003.
External links