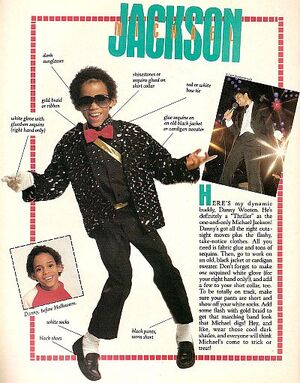 Danny Wooten (b. 1976), also credited as Daniel Wooten, is an actor who, as a child, appeared in the "Halloween Superstars" article in Muppet Magazine #8. Introduced as Janice's "dynamic buddy," Wooten impersonates Michael Jackson for Halloween.
Wooten subsequently appeared in the 1988 video Wow, You're a Cartoonist drawing alongside Luncheon Counter Monster (with his last name misspelled as "Wootem" in the credits).
Wooten has appeared on television in episodes of Providence, Moesha, and Fame L.A., in addition to various commercials.
External links