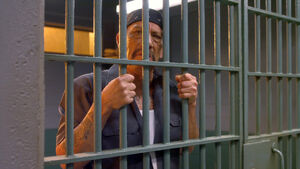 Danny Trejo (b. 1944) is an actor best known for his role as Machete in multiple Robert Rodriguez movies. Trejo filmed a cameo for the 2011 film The Muppets as a prisoner; however, his scene was cut from the final theatrical film. Footage from the scene was shown in The Fuzzy Pack trailer.
Appearing in numerous films a year, his roles include recurring characters Enrique on King of the Hill, Hector Ramos on Desperate Housewives, and guest spots on The X-Files, NYPD Blue, Modern Family and The Cleveland Show.
He was boxing coach to Eric Roberts for 1985 film Runaway Train, and his assistant for 1991 movie By the Sword.
External links