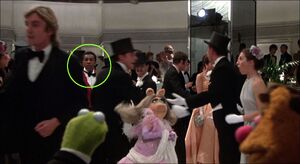 Danny John-Jules (b. 1960) is a British actor, dancer, and singer best known for playing "the Cat" on the television series Red Dwarf. Spitting Image voice actor Chris Barrie was also actively involved on that show as "Arnold Rimmer" another main character.
He appeared, unbilled, in The Great Muppet Caper as a dancer, and supplied the voices of Fireys #3 and #4 in Labyrinth. He also appeared in Frank Oz's Little Shop of Horrors as a doo-wop singer.
External links
Ad blocker interference detected!
Wikia is a free-to-use site that makes money from advertising. We have a modified experience for viewers using ad blockers

Wikia is not accessible if you've made further modifications. Remove the custom ad blocker rule(s) and the page will load as expected.